DeFi Is Better Than Wall Street
Disclosure: Crypto is a high-risk asset class. This article is provided for informational purposes and does not constitute investment advice. By using this website, you agree to our terms and conditions. We may utilise affiliate links within our content, and receive commission.
Juan Villaverde is an econometrician and mathematician devoted to the analysis of cryptocurrencies since 2012. He leads the Weiss Ratings team of analysts and computer programmers who created Weiss cryptocurrency ratings.
Dr. Bruce Ng is an educator in the field of Distributed Ledger Technology (DLT) and has been a lead crypto-tech analyst for Weiss Cryptocurrency Ratings since shortly after their launch.
_____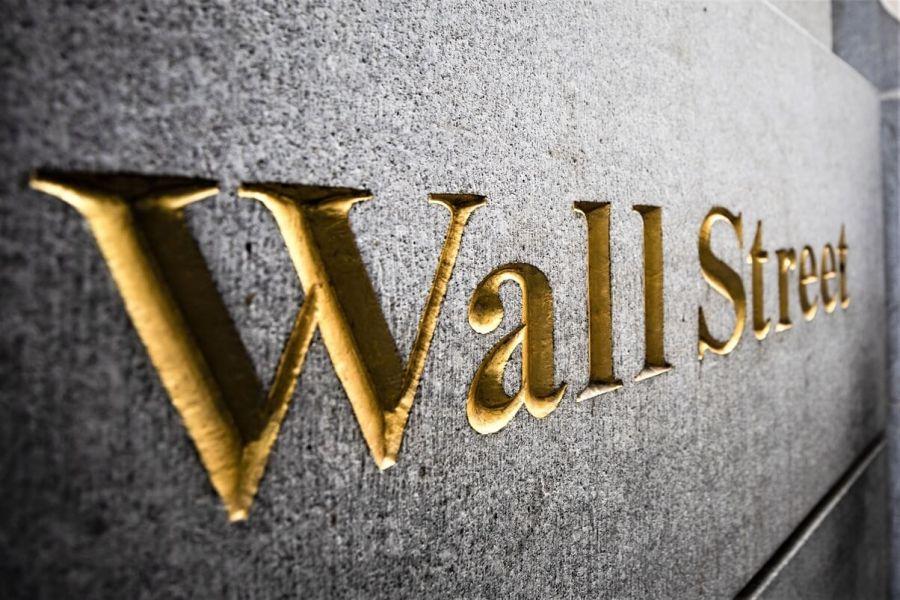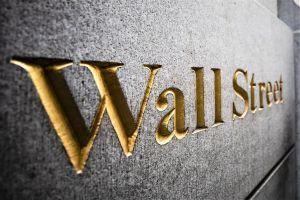 The simple fact that he has nearly a million followers on Twitter but follows no one would make him one of that social media platform's most unique content creators.
But Naval Ravikant is also one of the most successful "angel" investors of all time. Indeed, he's the co-founder and former CEO of AngelList.
And he's provided early-stage capital for more than 200 companies, including Uber Technologies, Inc. (NYSE: UBER, Rated "D") and, yes, Twitter, Inc. (NYSE: TWTR, Rated "D+"). The latter are just two of the 10 "unicorns" he's helped launch.
So, it's significant when he tweets stuff like this:
We wrote about DeFi – that's short for "decentralized finance" – in the August issue of Weiss Crypto Investor:
DeFi is essentially borrowing, lending and trading financial assets on the blockchain. The key difference is there's no traditional intermediary — bank, broker or stock exchange — standing in the middle and taking a slice of every transaction.
DeFi is growing like crazy because such services cost far less and require far less time than the same services from legacy providers … like brick-and-mortar banks and human brokers.
DeFi usage is going ballistic.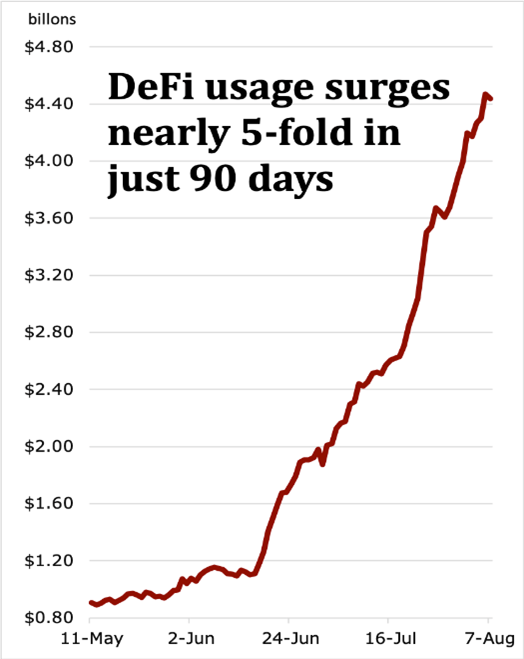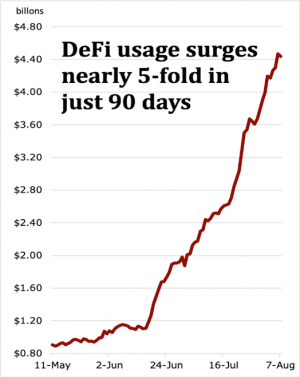 This chart tracks the total dollar value of the assets (TVL) locked up inside various DeFi platforms to collateralize loans and leveraged trading.
Over just the last three months, TVL has surged from about USD 900 million to USD 4.4 billion.
We'd gone a little deeper about what happened two years ago in the August WCI:
This reminds us of a key antecedent to the epic bull market of 2017 — which took Bitcoin from USD 1,000 to USD 20,000. Back then, one of the big things investors first got excited about — and later, manic — was an unprecedented flood of initial coin offerings (ICOs).
All these projects were full of promises, but most never amounted to a hill of beans. A few delivered on their promises … only to discover they had built a super-highway no one wanted to drive on — to a destination no one wanted to visit.
In other words, they were projects with near zero real-world appeal, adoption and usage.
Could today's DeFi boom ignite bitcoin's next epic surge — like ICOs helped fuel the first?
Yes, it could. In fact, this is far from a crazy idea. For one thing, there's a lot more substance to DeFi today than there ever was in the ICO bubble. No crypto ghost towns here, or highways to nowhere.
And, thanks to near-zero interest rates, investors are finding positive — sometimes even double-digit — yields offered by DeFi on crypto are practically impossible to pass up.
As a consequence, DeFi adoption and usage are surging. And these are two of the most important indicators of long-term success in the crypto world.
Beyond that, there's also a good chance the DeFi boom will open wide the floodgates for venture capital and hedge-fund money to pour into crypto.
If that happens, Bitcoin's next epic bull run is going to make 2017 look like small potatoes, by comparison.
DeFi is coming for Wall Street — and all such old-school "middlemen," for that matter.
___
Learn more:
DeFi's 'Total Value Locked In' Metric Is A Crooked Mirror
Why DeFi Isn't Always As Decentralized As You Might Think
The DeFi Sector Is Breaking The Law – It's Time to Act
---