Dallas Mavericks' Partner in Crypto, Lympo app Eyes New Markets
After Lympo, a project geared towards a healthy lifestyle ecosystem, partnered with NBA basketball team Dallas Mavericks to launch its app last week, Cryptonews.com talked to Taavi Rõivas, Chairman of the Lympo Supervisory Board and former Estonian prime minister, about the test results of the app's beta launch, what's next for company, and who their users are.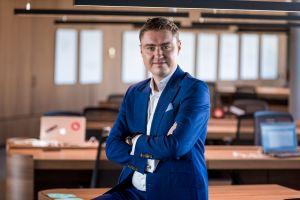 Cryptonews.com: What are your strategic growth goals for the next 12 months, 2-3 years?
Taavi Rõivas: In the next 12 months, we will be focusing all our attention on strengthening our position in the US market, looking for new partners and monetizing our app. After that, we will gradually shift to entering other countries and regions.
Which country (or several) will be your next target? Why?
After establishing ourselves in the US, we're going to focus our attention next to the UK, Australia, South Korea and Japan. These are perfect markets for Lympo, with lots of innovation going on and a tech-savvy consumer market. Furthermore, the health and fitness industry is booming in these countries, so we believe Lympo would be well received there.
What are the main challenges for your business and how do you plan to overcome them? How has the slump in the crypto market affected your project?
The main challenge of working in the crypto industry is dealing with the legal aspects of doing business. There is still a lot of uncertainty in this regard, however, we have managed to overcome all obstacles thanks to our strong legal team and skilled advisors. This helped us to successfully soft-launch our app in the US as well as prepare for the hard launch.
In your opinion, how is the landscape of projects with utility tokens changing? How could it affect your project and how would you respond to this?
Many utility tokens have to still prove their value. I believe that everyone is waiting for this breakthrough. We are proud that Lympo has fulfilled its promises and currently LYM tokens can already be earned by walking and running using the Lympo app and we also have Lympo Shop where token holders can buy a big variety of sports apparel.
Will you be looking to raise additional capital?
For the foreseeable future, we have no plans to raise additional capital, however, this will become more relevant when seeking to scale worldwide.
In March, Ada Jonušė, co-founder of Lympo, said that the company will distribute 20% of the company shares to its token holders in the upcoming 12 months. Also, there was a plan for initial public offering (IPO). What are the latest developments here?
Yes, to reward our most loyal supporters, we have started a special program with some amazing perks. Everyone who holds upwards from 10,000 LYM, registers to receive the utility shares and performs the KYC (know your customer) procedure until December 10, 2018, will receive tokenized Lympo utility shares on December 20, 2018. This will be the first round of distribution and 20% of utility shares will be issued on the given date. The utility share holders will receive benefits that are divided into three levels (Bronze, Silver, Gold) and include things like VIP invites to Lympo events, discounts in Lympo partner gyms around the world, extra tokens for completing challenges and so on. These utility shares will be given out as non-tradable special ERC-20 token. More information is available on our Medium blog. Regarding the IPO, it is currently not a priority.
If you're looking for new partnerships, what is of interest for you?
We are focusing our business development efforts looking to partner with gyms, health, fitness and sports-related brands. In fact, we have a big partnership announcement coming this month.
How are your discussions with healthcare providers going?
There are some talks going on, however, as of yet, we can't announce anything more specific.
Tell us more about the fitness shop where people can purchase gear with LYM. Do you already have people interested in it? Are there discounts for those paying with LYM, as opposed to fiat? How do the prices change with the market volatility?
We are very proud of Lympo Shop, which, after its launch, became the first e-shop in the world to accept fitness token payments. Users can buy products with crypto tokens which they've earned just for walking or running and this is a substantial innovation with, I believe, mass appeal, which a lot of other crypto projects, unfortunately, often lack.
Slowly but surely, the user number is rising, we have increasingly more orders made every day. Right now, there is a 20% discount on all orders paid for with LYM, which is a really effective incentive. The price of all products is tied to fiat and the price of LYM changes dynamically, in regard to fluctuations in the crypto market.
LYM price chart: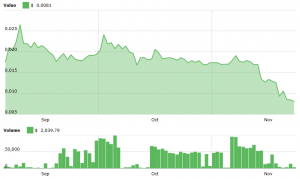 What have you learned from the app testing phase?
The testing phase is crucial for the success of every app. We have focused on three main parts:
Performance testing - bug fixes, performance improvement, battery usage reduction and other performance related areas.
User testing - understanding how users interact with our app, their flow, their needs, what they like, understand and what should be improved.
Marketing tests - testing different marketing channels, experimenting with budgets and targets, messages, seeing what works best.
During testing, we have learned that most users easily understand the main idea behind the app and how to use it, however, testing has helped us tremendously to further improve the UX/UI (user experience / user interface) to make it even more comfortable to use for more users.
You announced the implementation of indoor activity tracking. What will that entail?
In addition to tracking activities, such as walking or running, while completing in-app challenges, we are considering to also start rewarding users outside of challenges, simply for each step they take. This basically means that users would be rewarded for their indoor activities. It's something that we would like to eventually implement as it's a great way to motivate and inspire users living in colder climates or those, who do a lot of walking or running indoors.
Are you looking into integrating your token with other health & fitness apps? How is it going? When could we expect some news about it?
Yes, soon we're going to announce the launch of Lympo Squat, an app which will reward users with LYM tokens for squatting. Opening our API (application programming interface) is also something we're planning to do, which will open up all sorts of opportunities to integrate LYM into third-party products and services. It's hard to set a more specific timeline for now, but it will surely happen eventually.
Do you have an overview of your user demographic? Who are they?
Our users are tech savvy, 25 to 35-year-olds, living in cities. There are slightly more men than women, but the split is more or less equal.
Your personal coach platform, Lympo.lt, has launched in Lithuania. What are the main takeaways for now? Do you intend to make it accessible to other territories as well? Are there any interesting trends you have noticed?
The personal trainer platform Lympo.lt is successfully working for more than a year in Lithuania. We have recently launched a second version with lots of improvements. The whole platform got a big overhaul and was updated based on our experience and the feedback we have gathered from users and coaches. There is a demand for such a product in the market and we're happy to see growing usage numbers and helping people find the coach that best suits their needs as simply as possible. There are plans to introduce the platform into the rest of the Baltic countries, as well as the US.
_____
Disclosure: Cryptonews.com is backed by Antanas Guoga, Member of European Parliament, a serial entrepreneur, investor, and co-founder of Lympo.
---