Cryptos Test New Waters - Poker Tournaments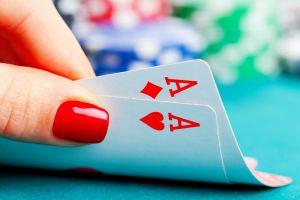 It was an interesting time in the world of poker last week. Most may be think of the crowning of the World Series of Poker (WSOP) Main Event champion in Las Vegas. But a small tournament at Harrah's Resort and Casino in Atlantic City may strike a bigger chord for those in the crypto world.
The first-ever all-crypto, live poker tournament was held as part of the Blockchain World Conference (BWC). While the turnout may have been tiny compared to the WSOP, many are hoping the crypto-tournaments continue and are proof that similar events could safely transfer funds – and are more than just a gamble.
50 players and 4 coins
The BWC tournament was much the same as traditional poker tournaments. Fifty players gathered around tables and battling it out with bets and bluffs, hoping to be the last person standing.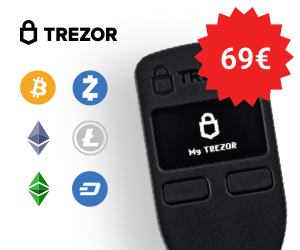 However, players brought in using ticket-buying technology from Blockparty, a blockchain startup. The USD 250 buy-in (an up-front payment required to enter a poker tournament) could be made using bitcoin, ether, litecoin, or BOXX, the Blockparty token, via Jaxx wallet after registering on the Blockparty app. The company's bigger aim is to solve issues such as ticket fraud, large reseller prices, and friction at event check-in. Company officials used the tournament to showcase the app's capabilities.
"The tournament was a success," said Vladislav Ginzburg, Blockparty vice president and head of business development. "There was good buzz around the conference leading up to the tournament among those who were already poker players, but also those who wanted to be a part of another element in mainstream cryptocurrency adoption."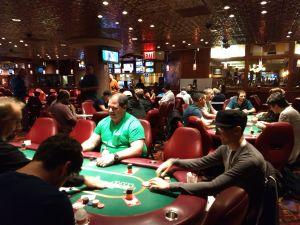 As a new event, Ginzburg said there weren't any major challenges beyond issues that come with any "first-ever" event.
"At a basic level, a sanctioned poker tournament is just another live event, but still using a relatively old-fashioned registration procedure," he says. "By using our platform, the entire process (registration, buy-in, check-in at arrival) is streamlined and efficient."
From bucks to block
So what is the future of crypto when it comes to poker and gambling? At the WSOP, which featured more than 70 tournaments this summer, players can use any number of methods to buy into an event, including cash or wire transfer.
While some properties may take the crypto-plunge, WSOP officials believe there are still too many hurdles in regards to regulation and financial reporting that make it difficult to feature crypto buy-in events.
"Nope, not us, not happening," says Seth Palansky, Caesars', a gaming company, vice president of corporate communications and WSOP spokesman.
"We have Know Your Customer and FinCEN [Financial Crimes Enforcement Network] financial protocols, and AML [anti-money laundering] rules to follow. Not knowing the source of funds is going to make this not something we can ever touch and remain in compliance."
Officials at Blockparty believe they have built-in security features that minimize these risks and may be of more value to casinos in the long run.
"A core feature of Blockparty's platform is ID verification, and a core feature of blockchain is the immutability of the ledger for accurate auditing. Combining these core tenets allows the property to know who their players are, and tie them to their buy-ins. Traditionally, this process would be done in cash, which carries a much higher risk for money laundering or identity fraud," Ginzburg says.
Growing the game
Obviously the future of this type of technology and poker is still a bit murky. In a game that attracts all ages, will crypto be prevalent enough for properties to take a chance on tournaments like this? Do regulatory concerns make if too risky?
On the contrary, crypto may offer opportunities – a way to expand the number of players looking to ante up and opening up tournaments to players who may not have been casino gamblers otherwise.
Crypto entrepreneur and poker player Alan Percal knows quite a bit about both worlds. He has USD 660,000 in live tournament poker winnings and won a WSOP event in 2016. As early adopters of cryptocurrencies and Blockchain technology, he sees poker tournaments and this technology as a natural fit.
"I think it's great for the game since tons of poker players got into crypto fairly early and are likely still holding a decent amount," says Percal.
Percal believes the two worlds will merge even more in the coming years. In the meantime, Percal sees continued acceptance in the marketplace in general including slow expansion of poker tournaments utilizing crypto.
"Anywhere I see crypto adoption I generally view as a good thing since it brings more awareness to the community," he says. "As far as the future, I'm not sure this will be much different from buying into a tournament with U.S. dollars not too long from now, assuming things head in the direction I think they will."