30 Dec 2019
· 12 min read
Cryptonews Rewind 2019: Q3 - The Return of Bears and Growing Adoption
Here is what happened in the Cryptoworld in the third quarter of this year: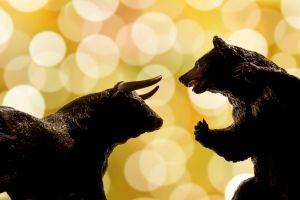 Total crypto market capitalization in Q3

July
July was a very busy month. Telegram's token Gram jumped 201% even before public sale, and DOGE skyrocketed after the announcement that it'll be listed on Binance. In other coin news, Tron (TRX) was hit with fake news; and Opera's crypto wallet for Android started supporting Bitcoin (BTC) and TRX.

Speaking of Tron, the anticipation and the guest list for the Sun-Buffett luncheon grew by day, but then it was pushed back, allegedly due to Sun's kidney stones, after which the TRX prices dropped. This was followed by a lot of confusion and speculation when Sun posted, then deleted an apology.

David Marcus, co-creator of Libra. Source: a video screenshot

In the meantime, news about Libra and regulations in became practically inseparable, as governments started attacking it from all sides. Facebook was working hard to try to ease the concerns about Libra expressed by the Washington lawmakers. The Internal Revenue Service (IRS) decided to update its cryptocurrency guidelines following a request put forward by the parliamentarians. The G7 also discussed Libra and cryptos. Finally, there were not one, but two consecutive hearings to talk about the new coin.
U.S. lawmakers were moving fast to stop major IT companies from issuing cryptocurrencies. The Securities and Exchange Commission (SEC) and the Financial Industry Regulatory Authority (FINRA) announced that brokers looking to offer cryptocurrency securities will have to comply with existing securities laws, including customer protection rules. The SEC, however, approved the first-ever digital token offering, to be held by blockchain start-up Blockstack. In the meantime, a Chinese court reportedly recognized Bitcoin as having legal value as property.
In South Korea, we've seen companies investing in blockchain titles, while Samsung, LG and SK were set to begin their summer blockchain war for the Leader title. The local governments were setting new blockchain goals, while Samsung added six new dapps to its Galaxy S10 smartphone's blockchain wallet with more to follow, might've talked with Kakao about a blockchain cooperation, and Kakao's platform Klaytn sacrificed decentralization to be up to 15 times faster than Ethereum. Additionally, South Korean major mobile carriers joined with major companies and banks on a blockchain-powered mobile identification platform collaboration, and LG began offering blockchain-powered mobile phone insurance.
Nearby, in Japan, the reports were out that there would likely be no obstacles for Libra as it's not deemed a crypto. Also, a parliamentarian aimed to bring a cryptocurrency tax reform, and the Japan Virtual Currency Exchange Association lost its head, so to say, as the CEO stepped down.
In Singapore, the authorities were building a global crypto and blockchain hub, while the Inland Revenue Authority of Singapore (IRAS) proposed the exemption of some crypto transactions from goods and services tax. In other countries, Siemens was looking into ways to use blockchain for carsharing, and Pundi X partnered with Verifone to bring crypto to more retailers. India, however, was considering imprisonment for holding crypto. Meanwhile, John McAfee was detained by the authorities in the Dominican Republic, then released four days later safe and sound.
A number of Russian companies were keen on launching tokens of their own and were waiting on Moscow to make its final decision. Cuba was also studying crypto's ability to help its economy amid U.S.-led sanctions, but another regulatory battle was coming the Cryptoworld's way as the UK financial watchdog said it wants to ban cryptocurrency derivatives to all retail consumers in the Kingdom. Also, Donald Trump joined ECB, IMF, China, Italy and others in unintentionally building a case for Bitcoin.

In the meantime, good news started coming in, as Bakkt started testing its bitcoin futures and Coinbase broadened its focus and targeted 1B people, the crypto derivatives market was heating up as Binance and BitMEX prepared to launch new products, and Catherine Coley, former Head of XRP Institutional Liquidity at Ripple, was appointed as CEO of Binance.US. Binance also launched margin trading on an upgraded version of its trading platform.

New York Attorney General Letitia James. Source: Twitter, @NewYorkStateAG

A long-running battle between the New York Attorney General (AG) and Bitfinex took a fresh turn with the AG claiming that there have been irregularities with Bitfinex claims about whether – and how long – the platform and related companies have been dealing with New York-based customers. Furthermore, the U.S. Commodity Futures Trading Commission (CFTC) started investigating whether BitMEX broke rules by allowing Americans to trade on the platform. Furthermore, Abra announced restrictions due to regulatory uncertainty.
Huobi announced its new stablecoin, while considering 'a more balanced shift' than Binance's 'radical' BNB burn. And while the highly-anticipated Polkadot announced the "canary-net" that is its experimental version called Kusama, and Ycash, Zchash hard fork went live, Vitalik Buterin was criticized for his 'Ethereum + Bitcoin Cash' scalability solution, followed by some more criticism.
We saw two more important firsts: a blockchain-powered shipment from South Korea to the Netherlands was successfully completed, and the first crypto hedge fund won the UK authorities' approval. Meanwhile, Goldman Sachs went 'further than ever before' into crypto as it sought to hire a "digital asset project manager" for its New York office. Newegg said it'll start accepting bitcoin in 73 additional of its country-specific stores, and Norwegian Air allowed its passengers to pay for tickets in crypto and to trade on the airline's very own crypto exchange, while tour operators in China's Yunnan Province would get blockchain-powered invoices for online and mobile payments.
August
September
__
What other news from the third quarter you would like to add to this list? Let us know in the comments below.
__
Learn more:
Cryptonews Rewind 2019: Q1 - Last Months of Crypto Winter & First Hacks
Cryptonews Rewind 2019: Q2 - The Big Rally, Libra & Regulatory Awakening
---