Crypto Innovators' Purr-fect Solutions Could End Animal Cruelty
Donations in crypto, blockchain-powered pet registration system and counter-measures against illegal fishing are just a few examples of such solutions.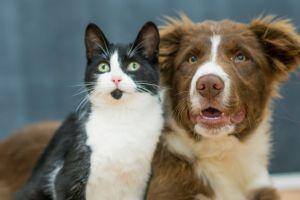 Nurturing CryptoKitties and blockchain dogs is all well and good – but what if you could care for real-life animals using blockchain technology and cryptocurrencies? Well, some innovative entrepreneurs are looking to allow animal-loving cryptocurrency investors to do just that.
Indeed, a Japanese blockchain startup will this month allow cat-loving crypto investors to donate to a Tokyo cat sanctuary in cryptocurrency – helping save stray cats from extermination.
Visitors to the Niconico Super Conference (an event hosted by Japan's answer to YouTube, Niconico) in Chiba later this month will be able to make on-the-spot donations to stray cats rescued from the streets of Tokyo.
It is all part of a clever PR stunt from Sakura Bloom, a blockchain platform operator. The cats, rescued by animal foster home network Tokyo Cat Guardian, will be on display at Sakura Bloom's booth at the Super Conference. Each cat will have its own QR Code. Should a particular cat tug at your heartstrings, you will be able to scan its code and make an instant donation – providing your payment is made in Sakura Bloom's SKB tokens.
Sakura Bloom says the event is just the start of a broader plan for animal care-blockchain innovation. The company claims, "We will continue to look for ways to promote animal welfare via our SKB blockchain platform. We will look to provide support for stray cats and dogs, to keep them from having to be rounded up or exterminated."
Blockchain Solutions
Meanwhile, in nearby South Korea, software developer BrainDude says it has come up with a blockchain-powered pet registration system that could help eliminate animal abuse and punish people who abandon pet dogs.
The company says its Foani platform, scheduled to be released later this month, will allow animal welfare specialists, non-governmental organisations (NGOs), government officials, pet vendors and owners to track dogs on decentralized ledgers – throughout the course of their lifetimes.
The platform, says the company, will let participants register their animals, track medical supplies, check on the status of pet-related products and update veterinary records. Moreover, the platform will allow government bodies to hold pet owners accountable if they abandon or mistreat their animals.
BraineDude CEO Kim Jin-young says, "Our goal with Foani is to put an end to canine unhappiness. We will use blockchain technology to ensure no stray animals remain unidentified. It's a user-friendly interface that allows participants to quickly access the information and services that pets require."
South Korean technology journalist and cat owner Park Mi-kyoung told Cryptonews.com:
"Who knows if these new blockchain-pet platforms will take off? However, the government should really look to blockchain technology-powered solutions for animal registration. All that sort of thing traditionally requires a lot of paperwork. But I think blockchain provides a nice, easy, decentralized, digital system for everyone to use."
Caring with Coins
Elsewhere in the world, animal shelters are looking to move with the times, adding bitcoin and altcoin payment options for would-be donors. After years of pressure from animal-loving bitcoin enthusiasts, People for the Ethical Treatment of Animals (PETA), the world's largest animal rights NGO, last year announced it would accept Bitcoin donations via the BitPay platform.
Another major NGO, the World Wildlife Fund (WWF), has gone a step further. The orgnaization this year announced it was teaming up with blockchain companies ConsenSys and TraSeable, as well as a fishing company named Sea Quest Fiji, to create a blockchain-powered database for the Pacific Islands' tuna industry. The goal? The WWF says the program will "stamp out illegal fishing and human rights abuses."
WWF-Australia's CEO, Dermot O'Gorman, explained:
"This blockchain pilot is part of WWF's broader innovation initiative on how technology can help save the planet. It's a very exciting revolution that's about to transform the industry. It will deliver multiple sustainable development goals."
There are also scores of other animal shelters and welfare charities all over the world that now accept crypto-donations. These include the likes of Russian charity Forgotten Animals, who consult with zoos on the humane treatment of animals – and not only accept Bitcoin, but also donations made in Dogecoin, Bitcoin Cash, Ethereum, Dash and Litecoin.
Diverse Donations
It seems almost inevitable that animal welfare activists, who rely so heavily on the internet for their funding, will increasingly turn to cryptocurrency-powered solutions to help speed up and facilitate donations.
As cryptocurrency companies grow in size, so too will the scope of their corporate social responsibility activities. Earlier this year Ripple donated some USD 29 million worth of XRP cryptocurrency to American teachers looking to fund the purchase of chick incubators, as well as school trips, computers and musical instruments.
The donation, made to DonorsChoose.org, was the largest ever made in cryptocurrency to a single charity. The crypto-community's many philanthropists and animal lovers will surely ensure that plenty more is to follow.
---