Crypto in 2019: What Roger Ver Expects of Bitcoin Cash Next Year
This year has been difficult for the whole cryptocurrency market, and Bitcoin Cash (BCH) is no exception: following its hard fork that gave birth to Bitcoin ABC (now Bitcoin Cash) and Bitcoin SV, the offshoot of the original cryptocurrency was often blamed for the subsequent market drop. However, its fans believe that the next year will bring positive changes and adoption rates for the coin.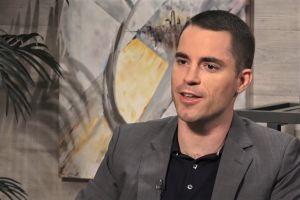 What is now known and accepted as Bitcoin Cash is the so-called "conservative" option, led by Bitcoin Cash enthusiast Roger Ver, among others, and had strong supporters represented by mining hardware giant Bitmain. This side believed that there is no need to change the structure of BCH radically, although the roadmap leaves some room for further development, as opposed to Bitcoin SV, which pushed for more drastic changes in the protocol.
To The Moon or Not?
Currently ranked 4th by market capitalization, Bitcoin Cash had gone through many of the same troubles that other cryptocurrencies did throughout 2018. Bitcoin Cash soared to over USD 4,000 per coin in last year's epic bull run, but has now fallen a staggering 97% from those highs. However, if BCH will rally again in 2019 or if it crashes to the ground - nobody can tell, not even their greatest proponents.
Roger Ver, cryptocurrency enthusiast and one of the biggest backers of Bitcoin Cash, told Cryptonews.com that it's impossible to know what the price will be as "the market is made up of millions of participants with their own needs, desires, and goals." Refraining from giving an estimate on price doesn't mean he does not believe in the future of crypto: "I'm incredibly bullish on the entire cryptocurrency ecosystem, and Bitcoin Cash specifically."
BCH price chart: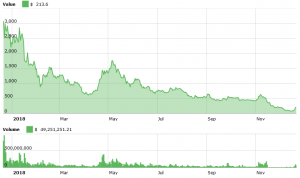 Ver Calls for Censorship Resistance Through New Technologies
More important than price, in Ver's opinion, is the cryptocurrency's ability to withstand attempts at censorship. To the question of what he expects in 2019 in terms of cryptocurrency regulations, he said, "I'm looking forward to using cryptocurrencies to undermine the ability of the state to control society."
This goes hand in hand with the Bitcoin.com Oracle, which "will be launching in full soon," although he didn't disclose any details other than naming censorship resistance as one of its most prominent features. The autonomous feature will allow specialized prediction markets and decision-based transactions for sports scores, political results, and market exchange rates - perhaps similar to Augur, a dapp on the Ethereum blockchain, which is best known as a prediction market.
Since the Bitcoin Cash network upgrades in May and November, the protocol and its scripting language is now far easier for coding smart contracts, decision-based transactions, and predictive oracles, says the press release for the feature, adding, "By building the Bitcoin.com Oracle, we plan to utilize the benefits of the BCH network and all the new features added during the last upgrades in order to provide verifiable multi-sourced facts."
This is not the only technological advance of Bitcoin Cash that should launch in 2019: "I'm also very excited about our Coin Shuffle privacy tool coming to the Bitcoin.com wallet very soon," Ver tells us. This feature, named Cash Shuffle, will lend Bitcoin Cash an additional privacy layer, letting users combine your transactions with other transactions for the purposes of obfuscating the transaction. Cash Shuffle claims there are no additional fees and no counterparty risks involved.
"Coin Shuffle is an excellent protocol once the participants for a joined transaction have already been chosen," explains Coin Shuffle's website. "However, it provides no means for establishing such groupings. Cash Shuffle builds upon CoinShuffle and adds a matching service. As such, it is a more complete and usable protocol."
Will People Opt for Bitcoin Cash More?
Roger Ver believes that adoption will be quicker for Bitcoin Cash than Bitcoin itself. "Adoption in commerce is fundamental to cryptocurrency adoption. Full blocks and high fees drive that adoption away," he recently tweeted. He has previously stated, "If BTC were to add a million users this week, the fees would skyrocket, and the network would grind to a crawl. If BCH were to add a million users this week, the fees would continue to be almost free, and the network would continue to be lightning fast."
However, the adoption of Bitcoin Cash remains murky: only 67 BCH wallets hold over 56% of the currency, which is not seen on any prominent cryptocurrency exchange. Although BCH bulls, such as Ver, may remain undeterred in their belief that BCH will reach mass adoption, others are more often cautiously optimistic. "The silver lining of the market drop may be that those with an interest in the technology, no longer intimidated by the high price point, will take the plunge and start experimenting with crypto," says Brian Norton, COO of MyEtherWallet, the oldest Ethereum wallet in the space.
What Does 2019 Bring?
Although specific predictions in terms of price and adoption can be hard to make, the technologies surrounding Bitcoin Cash could lead to both of these. Other than the shuffling technology and the prediction market, there had been talks earlier this year about a potential cryptocurrency exchange.
"Yes, we still plan to launch an exchange at some point," Ver confirmed, adding that "we haven't had time to lay out the firm plans yet."
Whether or not Bitcoin Cash will exit the shadow cast by its older sibling Bitcoin in 2019 is impossible to tell, but the new upcoming features - as tangible news - might bring interesting news in the industry. And while crypto is taking the brunt of regulations from the US Securities and Exchange Commission (SEC) as well as other regulatory authorities, Roger Ver tells us his New Years wish: "I wish the world will have a greater understanding of economics, and that the actual results of government policies are more important than the intentions."
---