Crypto Exchange Hodl Hodl Brings Something New to Prediction Market
Disclosure: Crypto is a high-risk asset class. This article is provided for informational purposes and does not constitute investment advice. By using this website, you agree to our terms and conditions. We may utilise affiliate links within our content, and receive commission.
Peer-to-peer (P2P) cryptocurrency exchange Hodl Hodl has announced a new product: a P2P prediction market based on a multi-signature escrow scheme that necessitates fair play from users.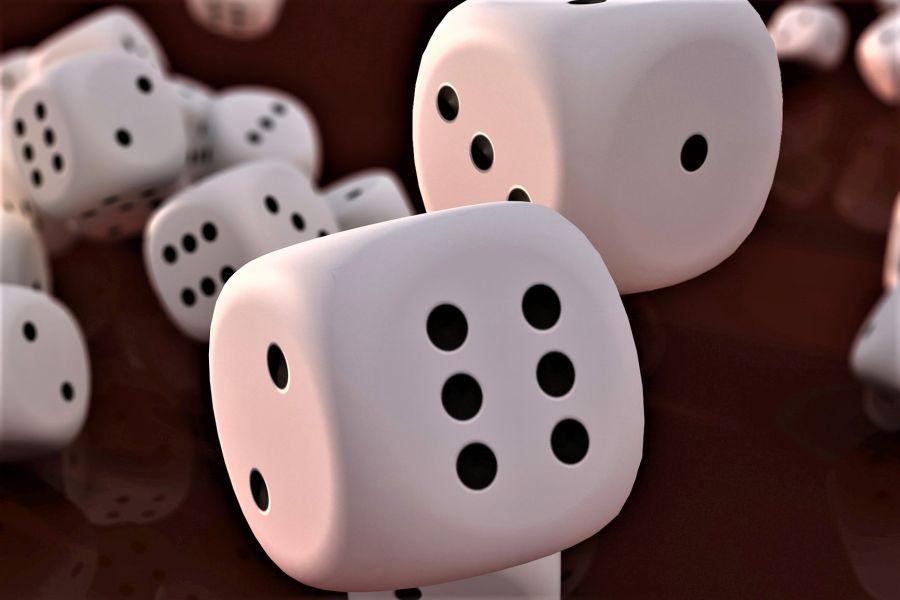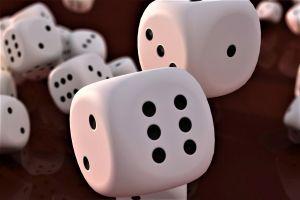 "We at Hodl Hodl believe this will be a perfect and long awaited instrument for the ecosystem," the company said in a blog post, adding that the new product is about to be released sometime this spring.
Prediction markets rely on oracles, or third parties which ultimately decides which outcome is true and reward the party that was correct. However, Hodl Hodl devised a different solution in order to remove the need for the third party:
"Because each party would lock funds in multisig 2-out-of-3 escrow, the oracle in this case is going to be sort of distributed: in a perfect case, both parties agree on the outcome, because neither party is able to return the coins locked in escrow unilaterally and, thus, they have nothing to win whatsoever by denying the outcome in favor of the other party. In fact, they risk losing their reputation on Hodl Hodl and future prospects for creating contracts."
The third key would be held by the exchange itself in case of a dispute: they can mediate between the two sides and decide which one was right. Since they only hold one key, they cannot access anyone's funds. "Thus, the prediction market implementation we came up with can be called "a peer-to-peer" prediction market," the company explained.
An example that they use to showcase how the product would work is the Mt. Gox case:
"For instance, if you're a Mt. Gox creditor (a Bitcoin exchange that was hacked and went bankrupt back in 2014) and awaiting the payout, you might be interested in creating a contract that says 'creditors of Mt. Gox will not be paid anything in 2019' even though your expectation is that they will be. Thus, you'd be hedging your risks: if you get paid by Mt. Gox, you receive bitcoins from them, but lose the ones you locked with your contract. If you don't get paid by Mt. Gox, you'd get some of the bitcoins that will be sort of a compensation for a longer wait period."
Prediction markets are exchange-traded markets created for the purpose of trading the outcome of events. The market prices can indicate what the crowd thinks the probability of the event is. Considered more accurate than employing pools of experts, their main advantage is the number of voters, as they rely on the wisdom of the crowd. Put simply, they pay users for making correct predictions, regardless of what those predictions are.
According to Hodl Hold, the difference between prediction markets and gambling is the fact that gambling is generally an activity that involves instant gratification expectation, fast execution and randomness, while prediction markets emphasize low-time preference, financial planning and responsibility.
Another well-known prediction market that launched last year is Augur, a decentralized application based on the Ethereum blockchain. Its native REP token is currently trading at USD 12.71, a drop of 1.39% compared to the past 24 hours (UTC 12:49 PM.)
Augur: users and volume comparison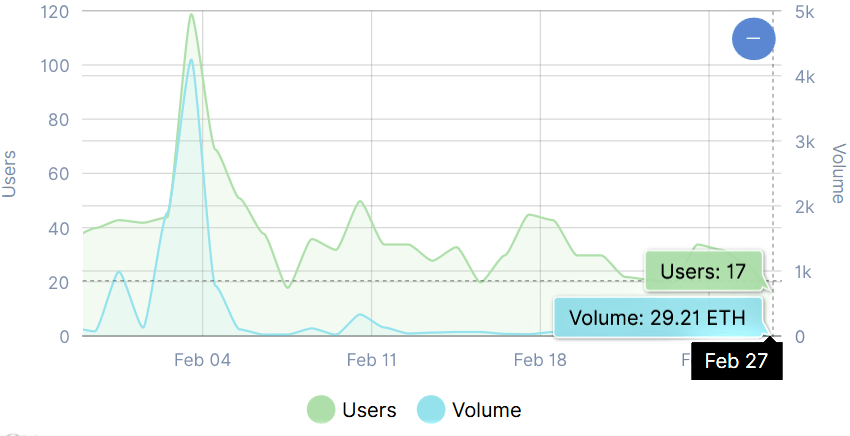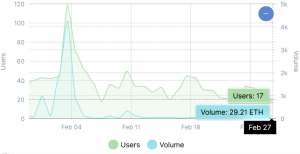 ---