Crypto Events Postponed, Bitcoin Miners Struggle Due to Coronavirus Outbreak
Disclosure: Crypto is a high-risk asset class. This article is provided for informational purposes and does not constitute investment advice. By using this website, you agree to our terms and conditions. We may utilise affiliate links within our content, and receive commission.
As the Wuhan Coronavirus spreads further across Asia – an important region for the crypto industry – industry players have started to feel the impact on their own businesses. As of this weekend, a number of crypto events have been postponed, mining gear manufacturers have announced supply chain disruptions, and some mining farms have even been forced to halt operations.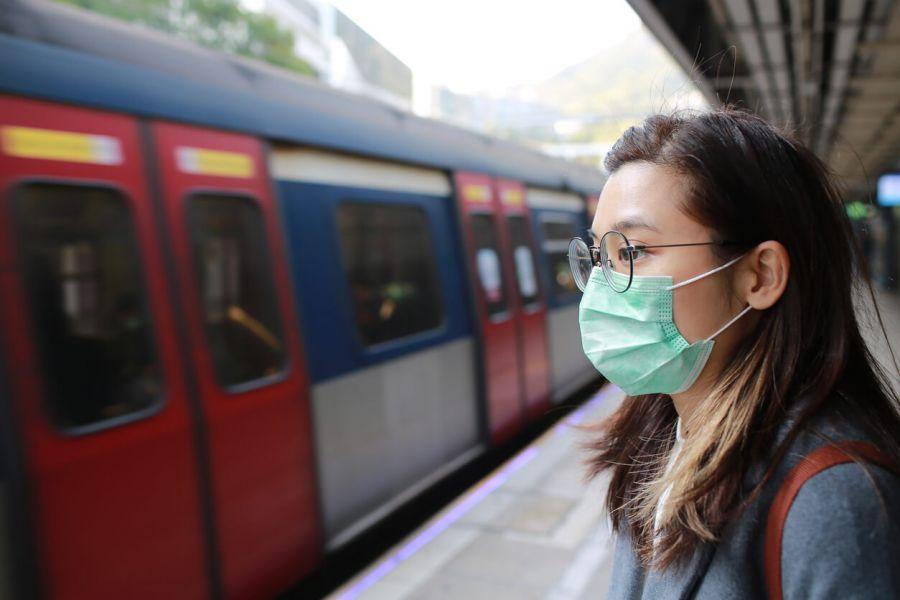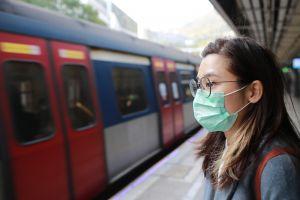 According to the latest report (February 13) by the World Health Organization, globally, there were 46,997 cases confirmed. 46,550 of them – in China. The number of deths reached 1,368 in China and 1 outside the country.
WHO risk assessment:
China: Very high
Regional level: High
Global Level: High
(Situation reports from the WHO can be found here.)
In China, the country worst hit by the virus outbreak so far, the official Chinese New Year holiday was extended by one week for most workers to avoid having large masses of people traveling and potentially spreading the virus across the country. Last week, however, most companies resumed work, although many chose to adopt work-from-home arrangements for their employees.
In Hong Kong, another major hub for blockchain-related companies, school is still off for most students after the Chinese New Year holiday, with the government now saying it will not resume classes again until March 16 at the earliest, South China Morning Post reported on Thursday. Like in mainland China, employees in Hong Kong have also been encouraged to work from home until further notice.
With this backdrop, it should come as no surprise that the crypto industry is also facing challenges. To give you the full picture of how the industry has been impacted so far, here is a compilation of everything we know.
Crypto events put on hold
When it comes to crypto-related events, getting together in person is unavoidable. Given health authorities' warnings that large gatherings work as incubators for the virus, organizers have been faced with the tough choice of whether they should postpone, or even cancel, their long-planned events.
Based on the information we have been able to gather so far, it appears that most blockchain events in East Asia have been put on hold for now, with the following events already putting out official announcements:
For now, blockchain events in other parts of the world, including the upcoming Blockchain Economy 2020 event in Istanbul, the Bitcoin SV-focused CoinGeek Conference in London, and Tone Vays' bitcoin-focused Unconfiscatable 2020 event in Las Vegas – all scheduled to begin on February 20 – are proceeding as planned.
Crypto mines halt operations
Although events naturally are the first to feel the impact of the virus outbreak, they are not the only ones facing challenges as lockdowns and travel restrictions are imposed across China.
As estimated by CoinShares Research in December, 65% of Bitcoin's hashing power resides in China. Due to this, it's not hard to imagine that the current outbreak may have an effect on bitcoin mining, and this could potentially become even more significant if the outbreak gets worse.
And indeed, according to a post and video clip published by bitcoin mining pool BTC.TOP CEO Jiang Zhuoer on the Chinese microblogging platform Weibo, operations at one mining farm he controls in China were halted. Judging from his post, Jiang was forced to shut down the farm after police arrived at the site and told them to cease operations, as workers should not be allowed in after returning from their holiday.
According to Jiang, however, the mining farm has been operating throughout the holiday and no workers had arrived back from their Chinese New Year holidays. Unfortunately, the police did not seem interested in the details and decided to shut the facility nonetheless.
The BTC.TOP mining pool accounts for 2.7% of the hashing power on the Bitcoin network today, according to data from Blockchain.com.
Meanwhile, after peaking on February 4, the hash rate of the network has started to correct lower.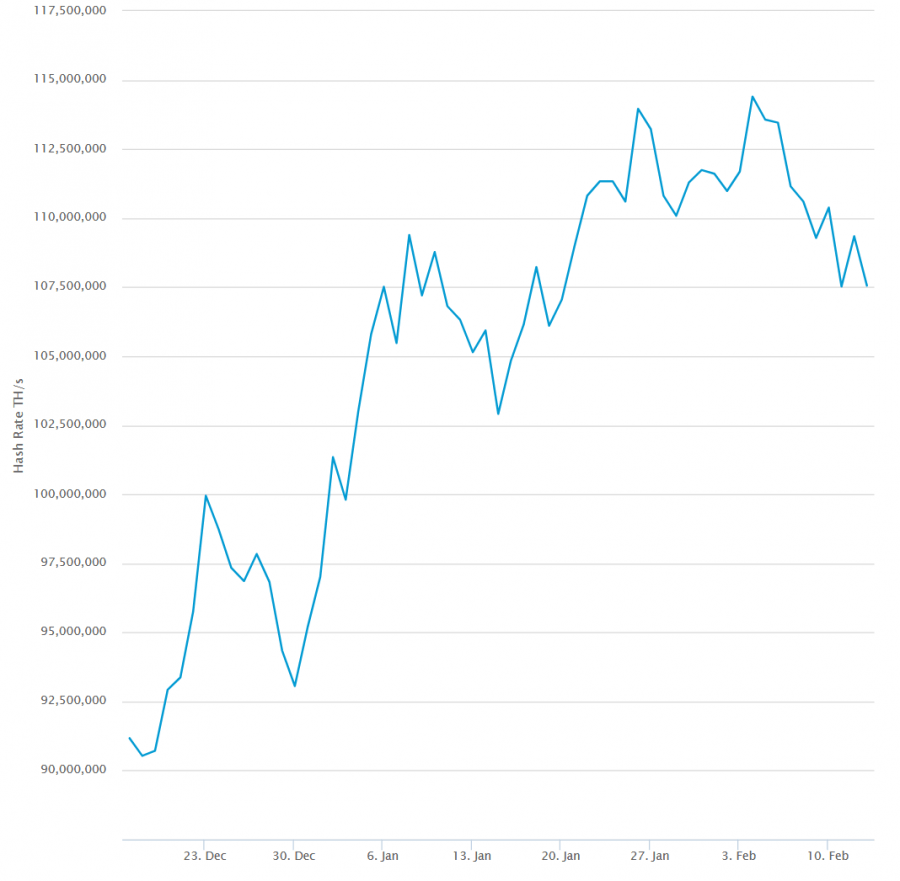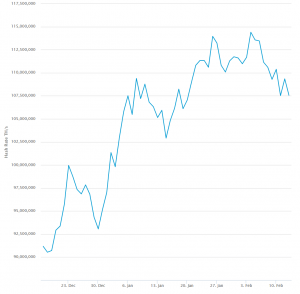 Also, this week, the Bitcoin mining difficulty went up only 0.52%. To compare, in January, the difficulty increased three times, going up by 4%-7%. Major Bitcoin mining pool BTC.com estimates that it will drop by 0.62% in 11 days.
Mining machine manufacturers halt (and resume) production
While miners in China have largely continued to operate uninterrupted, China-based bitcoin mining machine manufacturers like Bitmain, Canaan Creative, and MicroBT have all issued statements saying delays in after-sale services should be expected as a consequence of the virus outbreak.
In the case of MicroBT and Canaan, the statements also said that shipments of new orders from their factories would be pushed back from February 3 to February 9 and 10, respectively. However, it's probably reasonable to assume that further delays in new shipments will occur, as the companies work through their order backlogs.
Meanwhile, Japanese media outlet Coin Post reports that MicroBT, which produces the WhatsMiner line of Bitcoin mining equipment, has "partially" resumed its mining hardware production after an extended break, despite staff shortages at some facilities. The company had prolonged its annual Lunar New Year holiday recess due to the coronavirus outbreak, but says that its logisitics operations have been affected, with some areas now hard to reach. However, the company added that "Logistics for some shipments are improving and production has resumed."
As reported, the delays come at a time when miners are getting ready and want to replace their old equipment for the May 2020 Bitcoin halving, which in itself is bringing a number of existential questions for this group.
Blockchain playing mitigation role
Despite all of these challenges, however, many also believe that the crypto and blockchain community has a role to play in mitigating the outbreak. As reported earlier, Beijing's city government says it has already launched a blockchain-powered loans platform that will help small and medium-sized companies affected by the coronavirus to borrow money and potentially stay afloat – as the disease threatens to batter the city's industrial sector.
Further, insurance companies have also stepped up the game, with the Chinese blockchain-powered insurance platform Xiang Hu Bao saying it has added the Wuhan coronavirus as a critical illness eligible for a maximum one-time payout of 100,000 yuan (USD 14,325), the South China Morning Post reported.
Meanwhile, even some U.S.-based crypto companies, such as Messari are preparing a "what if" disaster plan.
"It's the first time I actually seriously prepared a "what if" disaster plan – with respect to supplies, travel protocol, hedging my investments, and even policy changes at Messari (we're testing our remote work systems this week)," Ryan Selkis, CEO of Messari, wrote in his newsletter this week, discussing the virus outbreak.
Finally, it should be stressed that the best course of action in any type of crisis situation is usually to take necessary precautions while staying calm and avoiding to succumb to panic.
With additional reporting by Tim Alper.
___
The WHO recommends these basic protective measures against the new coronavirus
Wash your hands frequently
Wash your hands frequently with soap and water or use an alcohol-based hand rub if your hands are not visibly dirty.
Why? Washing your hands with soap and water or using alcohol-based hand rub eliminates the virus if it is on your hands.
Practice respiratory hygiene
When coughing and sneezing, cover mouth and nose with flexed elbow or tissue – discard tissue immediately into a closed bin and clean your hands with alcohol-based hand rub or soap and water.
Why? Covering your mouth and nose when coughing and sneezing prevent the spread of germs and viruses. If you sneeze or cough into your hands, you may contaminate objects or people that you touch.
Maintain social distancing
Maintain at least 1 metre (3 feet) distance between yourself and other people, particularly those who are coughing, sneezing and have a fever.
Why? When someone who is infected with a respiratory disease, like 2019-nCoV, coughs or sneezes they project small droplets containing the virus. If you are too close, you can breathe in the virus.
Avoid touching eyes, nose and mouth
Why? Hands touch many surfaces which can be contaminated with the virus. If you touch your eyes, nose or mouth with your contaminated hands, you can transfer the virus from the surface to yourself.
If you have fever, cough and difficulty breathing, seek medical care early
Tell your health care provider if you have traveled in an area in China where 2019-nCoV has been reported, or if you have been in close contact with someone with who has traveled from China and has respiratory symptoms.
Why? Whenever you have fever, cough and difficulty breathing it's important to seek medical attention promptly as this may be due to a respiratory infection or other serious condition. Respiratory symptoms with fever can have a range of causes, and depending on your personal travel history and circumstances, 2019-nCoV could be one of them.
If you have mild respiratory symptoms and no travel history to or within China
If you have mild respiratory symptoms and no travel history to or within China, carefully practice basic respiratory and hand hygiene and stay home until you are recovered, if possible.
As a general precaution, practice general hygiene measures when visiting live animal markets, wet markets or animal product markets
Ensure regular hand washing with soap and potable water after touching animals and animal products; avoid touching eyes, nose or mouth with hands; and avoid contact with sick animals or spoiled animal products. Strictly avoid any contact with other animals in the market (e.g., stray cats and dogs, rodents, birds, bats). Avoid contact with potentially contaminated animal waste or fluids on the soil or structures of shops and market facilities.
Avoid consumption of raw or undercooked animal products
Handle raw meat, milk or animal organs with care, to avoid cross-contamination with uncooked foods, as per good food safety practices.
---