Confusion Over Conflicting Reports About OKEx Founder
Confusion reigns in the global blockchain community as conflicting reports circulate about Star Xu, the founder of OKEx, one of the world's biggest cryptocurrency exchanges.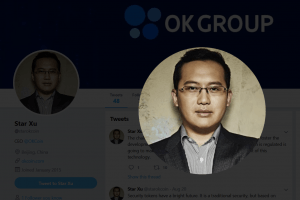 It appears that Star Xu (real name Xu Mingxing), the creator of OKEx operator OKCoin has had some sort of contact with the Chinese police. According to a detailed report by Chinese blockchain news site Hecaijing, Star Xu appears to have become involved in a confrontation with "seven or eight people," who "surrounded him" at a Shanghai hotel – after which the police stepped in. Reports have been substantiated by financial news outlet Caixin.
Reports say the dispute pertains to Star Xu's WFEE Coin activities. The OKEx founder is a shareholder in WFEE, which many investors in China are claiming is a scam.
Star Xu, say the reports, was taken to a police station in Shanghai's Weifangxincun district, where the OKEx owner was held for questioning on what some media outlets have called fraud allegations. Hecaijing has published photos of people filling in hand-written complaint forms that could be used as evidence against Star Xu.
Per the Chinese reports, Star Xu was held for a full 24 hours – the maximum period the police can hold an individual without bringing charges. However, as crowds of what appear to be disgruntled customers gathered outside the police station, and in its waiting room area, Star Xu did not immediately leave the building.
The reports state that the Shanghai force has handed the case over to Beijing police, as they believe the case pertains to activities in the capital, where Star Xu's businesses are officially registered. Hecaijing reporters claim to have seen documents that prove the case has indeed been handed over to the Beijing authorities.
However, media outlet Jiemian claims OKCoin's PR department stated that the report of Star Xu's arrest amount to no more than a "rumor." ETHNews quotes Tim Byun, OK Group's chief risk officer and head of government relations, as stating that reports of Star Xu's arrest were "fake news" and "that Xu, in fact, was seeking assistance from police."
In the early hours of September 12, Andy Cheung, Head of Operations at OKEx, tweeted:
_____
24 hour trading trading volume at OKEx (UTC 04:55 AM):
(Larger trading volume among markets with fees is only on Binance (USD 882.15 million.)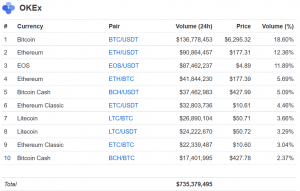 ---