Coinbase Leads the 'Most Trusted' Exchanges Ranking, Binance is 8th
Below, is the top 10 "most trusted and reliable exchanges" "for investors and traders who want to identify the best venues for their risk appetite," ranked by crypto market data provider CryptoCompare.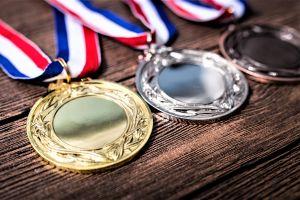 Today, the company launched its inaugural Exchange Benchmark in response to the problem of wash trading and inflating volume through incentivized trading schemes.
Here is how they have ranked the "most trusted and reliable exchanges":
1. Coinbase – grade AA, total: 60.30
2. Poloniex – grade AA, total: 59.90
3. Bitstamp – grade AA, total: 59.60
4. bitFlyer – grade AA, total: 57.20
5. Liquid – grade AA, total: 56.30
6. itBit – grade AA, total: 56.0
7. Kraken – grade A, total: 54.10
8. Binance – grade A, total: 54.0
9. Gemini – grade A, total: 53.20
10. Bithumb – grade A, total: 53.10
The ranking components include: geography, legal/regulatory, investment, team/company, data provision, trade surveillance, and market quality. We see that exchanges in the top 10 category have received either AA or A grade, and all are in the 50-59 score range, save for Coinbase that is just above 60, though the differences in scores between an exchange and the one that immediately follows or precedes it is small. While most of these are relatively strong in the investments and market quality categories, certain points have been lacking in the geography and trade surveillance categories.
There are ten exchanges, ranking 101 to 110, that have received the F grade. These are: Upbit Singapore (17.90), Coinroom (17.40), Yobit (17.20), Bit-M (16.90), AidosMarket (16.00), IQFinex (15.10), Ethermium (14.60), CryptoExchangeWS (13.10), LiveCoin (13.00), FatBTC (11.20) – all significantly lacking in the legal category. However, according to CryptoCompare, Exchange Benchmark indicates that the exchanges who got C-F grades have increased market share by 30% in the last 12 months.
Meanwhile, one of the top rated exchanges, the U.S.-based Poloniex, faces a backlash from the community that is unsatisfied with their risk management, and they might even face lawsuits. However, news about the exchange's problems surfaced in June, while CryptoCompare based its rankings on data collected in May.
Also, following a number of unfortunate events, Coinbase got into the #DeleteCoinbase crisis earlier this year.
Overall, the Benchmark is ranking 110 active spot exchanges globally, "offering investors and traders a comprehensive, granular and reliable source of information on the best trading venues", according to CryptoCompare.
The ranking methodology is comprised of a combination of:
34 qualitative metrics – due diligence checks consisting of six main categories designed to rate each exchange qualitatively on the basis of the above-stated ranking components;
and quantitative metrics – measuring market quality through a combination of five metrics the objective of which is to measure the cost to trade, liquidity, market stability, behavior towards sentiment, and "natural" trading behavior.
Trading volume is not used directly in the ranking, as volumes can be easily manipulated, CryptoCompare concludes, and any untrusted exchange can provide false data.
Finally, "Metrics were categorized into several buckets and distributed fairly," they explain, "to arrive at a final robust score, ensuring that no one metric overly influences the overall exchange ranking."
Meanwhile, just recently, it was also reported that only 10 out of 83 cryptocurrency exchanges, analyzed by crypto investment company Bitwise Asset Management, passed a test aimed to show if they were reporting systematically inflated bitcoin trading volumes. Out of the above mentioned exchanges, seven were on the "passed" list to: Poloniex, Bitstamp, BitFlyer, itBit, Kraken, Binance, and Gemini.
---