Coinbase: A Series of Unfortunate Events
Disclosure: Crypto is a high-risk asset class. This article is provided for informational purposes and does not constitute investment advice. By using this website, you agree to our terms and conditions. We may utilise affiliate links within our content, and receive commission.
Recent events around major crypto company Coinbase have sparked a lot of outrage until it seemed like they could not do anything without drawing the ire of the community to themselves.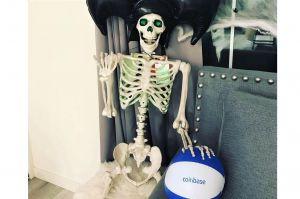 First, in the beginning of February, the community got lost among Coinbase products and many were left scratching their heads after the company announced support for Bitcoin to their wallet, which is different from their most popular product Coinbase.com.
Later, the exchange said that they wanted their users to backup an encrypted version of their Coinbase Wallet's private keys to your personal cloud storage accounts, using either Google Drive or iCloud. The community was quick to point out what a horrible idea that was: "Everyone mark this tweet so we can come back and laugh during the next cloud hack."
Of course, internal fights among fans of different coins have also touched the company when they announced support for Bitcoin Cash to Coinbase Wallet and launched XRP trading on Coinbase Pro.
Now, the company is still counting stones that the cryptoverse is throwing at them due to their acquisition of a startup called Neutrino. It was founded by three former employees of Hacking Team, a controversial Italian surveillance vendor that was caught several times selling spyware to governments with dubious human rights records, such as Ethiopia, Saudi Arabia, and Sudan.
To make matters even more complicated, they have defended their decision by stating that "Neutrino's technology was the best we encountered in the space" to protect users' data.
Neutrino develops technology for law enforcement and financial institutions to investigate and track transactions on the blockchain. The startup claims not only to be able to track transactions on Bitcoin – a seemingly simple enough matter by itself – but also on privacy coins like Monero that are supposed to be harder to track. Coinbase explains their acquisition in a blog post, "By analyzing data on public blockchains, Neutrino will help us prevent theft of funds from peoples' accounts, investigate ransomware attacks, and identify bad actors […] Led by some of the world's leading blockchain engineering and security experts, Neutrino will continue to operate as a standalone business based out of our London office."
The community is outraged, with many calling for everyone to start boycotting Coinbase.
"Coinbase's new acquisition is not just a surveillance company. It's much worse than that," wrote Bitcoin expert Andreas Antonopoulos. "[G]oodbye Coinbase […] not interested in having my data, identity, and crypto ownership data served to every government agency on a silver platter," wrote Meltem Demirors, Chief Strategy Officer at crypto investment firm CoinShares.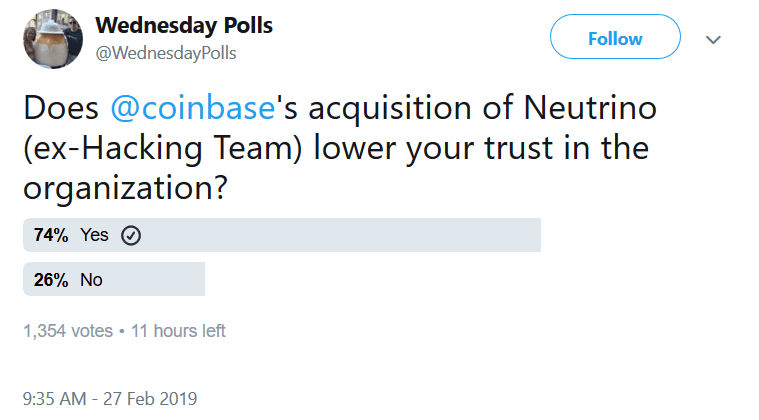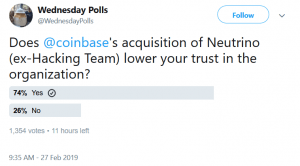 While Coinbase did not respond to our questions, the company has distributed their official response via media channels. The company said that they're "ware that Neutrino's co-founders previously worked at Hacking Team, which we reviewed as part of our security, technical, and hiring diligence," adding that "Coinbase does not condone nor will it defend the actions of Hacking Team," but "it was important for Coinbase to bring this function in-house to fully control and protect our customers' data and Neutrino's technology was the best we encountered in the space to achieve this goal."
In either case, controversies surrounding Coinbase are nothing new. Even back in June 2017, when the company announced they were hiring former federal prosecutor Kathryn Haun to their Board of Directors, many in the community felt like they were punched in the stomach. Haun has namely been involved in the Silk Road 2.0 case, which – like its predecessor – remains a sore spot for many Bitcoin enthusiasts. During both Silk Road trials, many believe that corrupt investigations made the trials unfair, having ended up with Silk Road, an online black market, creator Ross Ulbricht now serving a double life sentence plus 40 years without the possibility of parole.
---