Bakkt Study Shows Crypto Holders and Crypto Curious Optimistic on Crypto Despite FTX and Bear Market
Disclosure: Crypto is a high-risk asset class. This article is provided for informational purposes and does not constitute investment advice. By using this website, you agree to our
terms and conditions
. We may utilise affiliate links within our content, and receive commission.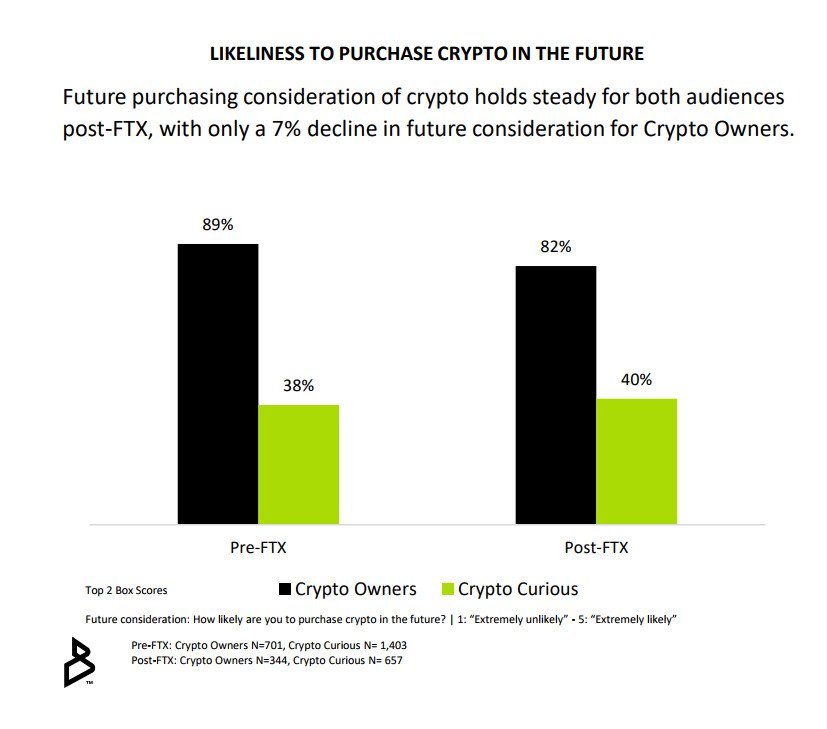 A new study commissioned by Bakkt has found that despite the recent fall of crypto markets and FTX's high-profile bankruptcy, consumers remain optimistic about cryptocurrencies and would still consider purchasing digital assets in the future.
The survey polled more than 3,000 individuals across the U.S., both before and after the FTX collapse, and revealed that among those already invested in cryptocurrencies, more than 82% are still interested in purchasing additional cryptocurrency in the future.
The "Bi-Annual U.S. Consumer Crypto Sentiment Study" concentrated on both current crypto-holders and those interested in the crypto space, gauging their interest in cryptocurrency following recent market volatility and the FTX saga, as well as their preferred security features and general outlook for crypto's place in the global financial system. 1,000 of the consumers were surveyed after the FTX collapse to compare how said collapse impacted prior findings.
"The results of the study confirm that cryptocurrency is increasingly appealing and not significantly impacted by the recent failure of FTX. We do not see signals of a market exit" said Bakkt CEO Gavin Michael. "Regulation and security come through as top concerns and illustrate why Bakkt's thoughtful approach to risk aligns with crypto owners' values and concerns."
Interestingly, both current crypto owners and those considering purchasing it in the future say their level of interest in purchasing crypto in the future hasn't decreased much or at all after FTX, with only a 7% decrease for owners (from 89% to 82%) and a surprising 2% increase for crypto curious people (from 38% to 40%). In total, almost half of survey participants claimed their interest in buying crypto remains unchanged.
For those who have yet to invest, the lack of understanding is the primary barrier. 61% stated they don't understand it well enough, while 41% said they don't know how investing in crypto works, and 38% are unsure what to do with it once purchased. Other concerns included security and regulation, with 21% saying crypto is too new and that more adoption is needed before investing.
The survey also revealed that traditional banks would be the most reliable source for purchasing cryptocurrency for all parties, with the majority of the crypto curious (68%) saying they would be open to purchasing it from their primary bank or credit union and 86% of current crypto investors saying the same.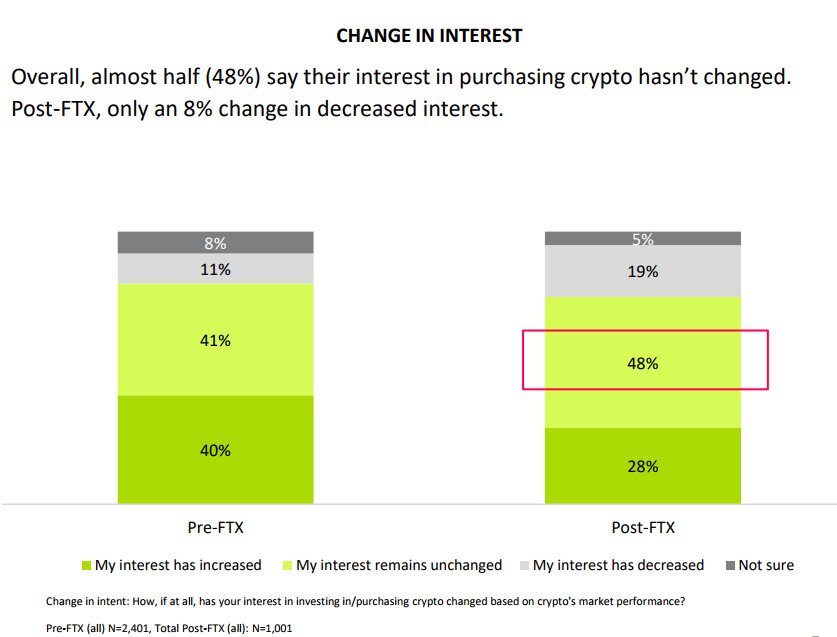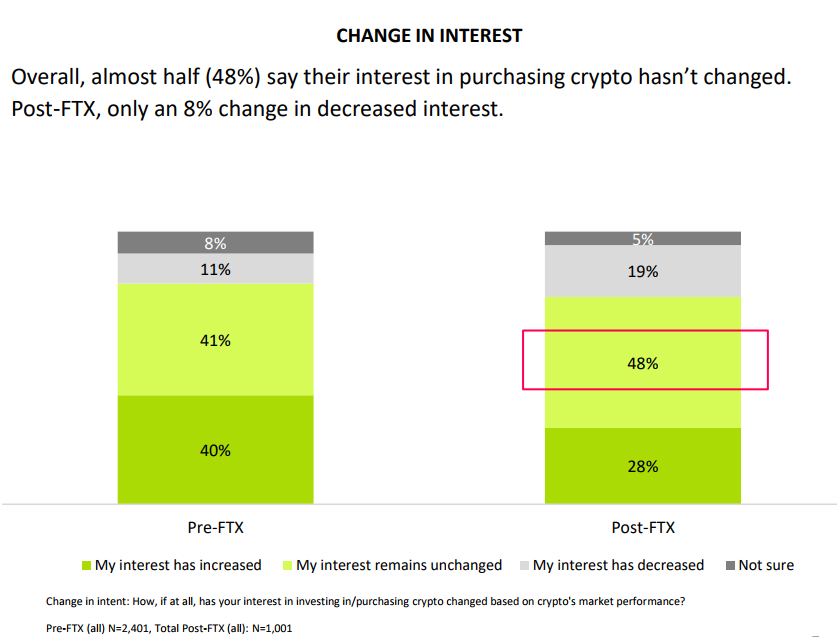 Other findings from the survey showed an overall positive sentiment towards cryptocurrencies among both owners and non-owners, indicating potential growth in adoption. This, combined with the growing demand for crypto payments among merchants and customers alike, highlights the increasing need for secure and reliable payment solutions that enable seamless transactions between consumers and merchants.
The study's findings are a testament to the potential of cryptocurrency as a viable payment solution despite past market failures, indicating that crypto holders and non-holders alike remain optimistic about the future of digital assets. And as more companies enter the space to provide secure infrastructure, we can expect an even greater increase in cryptocurrencies' usage for payment purposes.
Other key findings include:
The majority of people polled believe that cryptocurrency will be more regulated in the future, with 92% of crypto owners and 78% of crypto-curious people predicting such.
The majority of respondents (84%) say that crypto is becoming more popular, and 68% believe it to be the next step in modern finance.
48% of people who are curious about crypto and 51% of those who already own it agree that they would be more likely to use cryptocurrency for payments if they acquired it through redeeming loyalty points.
Over 60% of cryptocurrency owners use it as a long-term investment, with almost 20% using it for P2P exchanges or payments.
Overall, the findings from Bakkt's study indicate a strong interest among both current crypto holders and potential investors, which should provide reassurance to investors that digital assets are still a viable investment and are here to stay.
---