Another Giant Stock Exchange Goes Crypto
Boerse Stuttgart Group, the operator of Germany's second largest stock exchange, announced that they are creating an "end-to-end infrastructure for digital assets."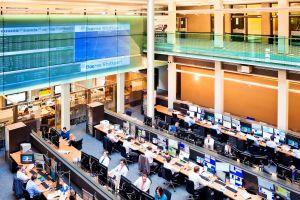 The new infrastructure will consist of a platform for initial coin offerings (ICOs), a trading venue, as well as custody services for cryptocurrencies, all under one roof, per a press release from the company. In addition to this comes the already established BISON crypto trading app, said to be the world's first crypto app backed by a traditional stock exchange.
"On this basis we can offer central services along the value chain for digital assets, all under one roof," the press release said, adding that the company intends to "help to promote acceptance of digital assets."
The announcement did not specify when the new infrastructure may be completed.
The addition of an infrastructure for digital assets by an established and fully-regulated stock exchange is a significant step in the right direction for the mainstream adoption and legitimization of crypto as an asset class. Trusted custody services, in particular, is something that has been cited again and again as a pre-condition for big financial institutions to get involved in the space.
As recently as last week, the lack of reliable custody solutions was cited by the US Securities and Exchange Commission (SEC) as one of their reasons for rejecting an application for a bitcoin-based exchange traded fund (ETF) filed by the Winklevoss twins.
Boerse Stuttgart is a floor-based exchange in Europe with trading across asset classes such as stocks, derivatives, bonds, ETFs, and soon digital assets. With a trading volume of EUR 81 billion (USD 93.87 billion) across all asset classes in 2017, Boerse Stuttgart is ranked tenth among European exchanges.
Also, this exchange is not the only one moving into crypto. In July, the leading Swiss stock exchange, SIX, has also announced plans for a cryptocurrency exchange under the same regulations and level of oversight as SIX itself. Meanwhile, In April, Adena Friedman, CEO of Nasdaq said that "Certainly Nasdaq would consider becoming a crypto exchange over time." While the parent company of the New York Stock Exchange has been reportedly working on an online trading platform for large investors to buy and hold Bitcoin. In addition, German stock exchange operator Deutsche Boerse, one of the world's largest trading centres for securities, is "deep at work" on evaluating whether to offer Bitcoin futures and other cryptocurrency-related services.
---