An Interview With ODEM on New Education Marketplace and Bad Actors
Right now there's a huge branding problem for blockchain companies in general and many projects suffer from a lack of credibility, Alexa Narma from ODEM's Marketing and Communications said in an interview with Cryptonews.com.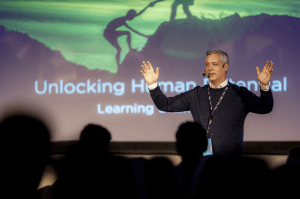 According to her, this perception about the technology and its operators causes a headwind for anyone in the blockchain space.
However, ODEM, a developer of an on-demand education marketplace on the Ethereum blockchain, is already in closed Beta testing of its platform and education portal. The startup, that raised ETH 7,000 during it's token sale, expects that its platform will be fully deployed to offer academic programs and blockchain certificates in the first quarter of 2019.
It's a platform for the educators, students and service providers in the education industry to participate in a decentralized, real-time and direct marketplace. It aims to empower the participants to search, select and purchase educational products and allow them to negotiate, request and create customized education experiences in-person as well as online.
Read the interview about the general state of their project and how it could look like once it goes live below.
On challenges, competition and profit
What are the biggest challenges that ODEM is trying to overcome?
Right now there's a huge branding problem for blockchain companies in general. Many projects suffer from a lack of credibility. This perception about the technology and its operators causes a headwind for anyone in the blockchain space. Establishing ourselves as a top project with a dedicated team, and a clear path to success is difficult when so many groups want to see you fail or have a preconceived notion that none of our work is "real." It's dark halo effect that we push back against on a daily basis.
For what it's worth, anyone thinking about starting a crypto/blockchain project should think very deeply about how bad actors can pollute the industry and affect the livelihoods of people who are doing the right thing.
I'd say our biggest challenge is building trusted lines of communication and creating positive momentum between educational institutions that have historically been competitors. There are many layers of approval and alignment that must happen to achieve success. Many incumbents are stuck in their ways and view any sort of change as a problem. That's not the reality of what we're doing at ODEM. We're changing that perception and transforming inertia into forward momentum.
In your opinion, how will traditional educational institutions respond to such projects as ODEM?
It really depends on if a university's leadership regards blockchain technology as a transformative way of delivering education or if they view it as a threat to their core-business model. We're seeing some universities react negatively. However, the majority are welcoming and are beginning to create curricula focused on the technology. Regardless of how they react, we know there are many institutions that need a leg-up and are turning to blockchain as a way of shaking-up dated learning systems.
If you look at the education landscape, there are many distressed universities out there that have suffered because of "Big Ed's" stranglehold on student financing. Compounding the problem are regulations that cause runaway administrative spending. If these schools shut their doors, students and alumni suffer the most - their degree is depreciated because the legacy of their institution has been compromised. These outcomes are disgraceful and unfair to students who began their educational journey with the hope of creating a better, more fulfilling life for themselves, their families and their communities.
Regardless of the environment for individual universities - ODEM will be able to capture opportunities by building bridges between educators and students. We look forward to more universities approaching us for help.
What other blockchain based projects are your main competitors?
We've been watching several projects in the blockchain/education space that are working on individual components of education systems. Some are focused on leveraging big-name schools to improve their marketing visibility, while others are taking a strictly technological view of the education system. We assume they're doing quality work, but we know our approach is more holistic and inclusive for a number of reasons.
Our sister company Excelorators Inc. has developed and offered student and executive courses for six years, while recently expanding into new projects, including ODEM and blockchain programs. We've served thousands of students, and worked with hundreds of educators in executive education, advanced learning programs, and developing programs designed for international students who want the first hand experience of attending classes located at some of the premier universities in the United States. Being a blockchain company is a natural progression as we expand our core business capability.
We haven't seen any other blockchain companies with the operational experience that we have with in-person educational programming.
When is your project set to become profitable?
From the very beginning we will have profitable revenue models. Full profitability will come by the end of 2021. However, we anticipate that any profit we earn between now and then will go towards research and development until we reach a majority of adopters at scale.
Odem price chart: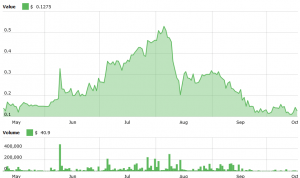 _____
On how will it work
ODEM is not an online-education platform, but a marketplace. How do lessons and exams take place?
Our platform is being built to facilitate in-person education experiences and issue certificates because it is our core competency. We will be offering blended learning programs and building features for real-time remote tutoring. Our research shows that in-person classes combined with online learning have a huge impact on learning outcomes for students.
Speaking for ODEM, our goal isn't to change an educator's pedagogy (method of teaching), but to help maintain the quality of programs. Just like the traditional education system, curriculum development and exams are administered by the teacher. We are working with seasoned educators to develop best-practices for educators who are new to the platform and planning the use of AI [Artificial Intelligence] technology for student assessment and testing.
Who can become an educator? What is the process?
We regard most subject-matter experts as educators. Our target audience for the platform is a combination of industry experts and professors across a broad range of topics - from Autonomous Driving Cars to the Hospitality Industry. Educators will be both credentialed and non-credentialed.
To help non-credentialed educators, we will offer a rating system for all students to score their academic experiences with them. We are currently working on other mechanisms that will further ensure the quality of educators and the safety of all the students.
The sign up process will be similar to a student registration but more rigorous. Identity verification and background checks are mandatory. Work history, teaching credentials, certificates, diplomas and consensus verification will be requested and stored on the blockchain.
Educators will provide the testing in the classroom for all students. Our technical roadmap includes developing a suite of tools to assist educators in creating curricula among other key integrations. Our goal with those features is to link measurable learning outcomes directly to the issuance of education certificates.
Who sets the price of a course, you or the educator? How can a student determine if the price is fair or not?
This is what it's all about. Our staking and bidding model allows educators to price their education programs. The platform will have a suggested pricing based on current market rates and conditions. Students will have the ability to negotiate with the educators through an online bidding system.
Can you give us a step-by-step explanation of the process that students will follow to start using ODEM? Are there any restrictions, geographical or otherwise, as to who can use it?
Each student will create their own education profile with background information, identity verification, academic history and interests. It will be very similar to applying to attend a traditional school. Once the student verifies their profile, they will have access to a library of educators and topics to choose from. Once the student finds a course that interests them, they will stake it using the ODEM token. When the smart-contract requirements for the program are met, the student will be notified about the program specifics, date, time, location, etc. If you have more questions, there is a built-in messaging system that connects you with the educators and coordinators. You can learn more about education program staking on YouTube.
______
This interview has been edited for space and clarity.
---