Alert: Crypto Scam Season is Upon Us, Even Central Bank Issues Warning
It's scam season again. Though scams have been omnipresent online basically since the inception of the Internet, there are periods in the cryptoworld when they are particularly prominent and are more brazen with each cycle. It has come so far that even a central bank had to issue a warning now.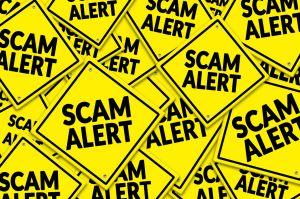 Now that we've entered a crypto spring, which ushered numerous developments in crypto sphere, with various major organizations and businesses supporting crypto and blockchain, upcoming halvings, and an overall positive atmosphere (well, except today) when it comes to the future of crypto, many scammers are using the spread of digital assets to attempt to trick crypto users, particularly newcomers who are yet unable to distinguish between a scam and a real deal.
The case of the Bank of Lithuania
Scammers have apparently gone so far as to falsify claims by major actors in the banking world, particularly the Chairman of the Board of the Bank of Lithuania. This week, the Bank of Lithuania has warned the public that the now unavailable website delfi.naujienosjums.com, which pretended to be a popular local news website, made claims that the Chairman has offered to invest in a crypto, a cause in which people were apparently invited to participate – with their money, of course.
Audrius Šilgalis, Head of Investment Services Supervision at the Bank of Lithuania, has warned people that this is a scam, as scammers are constantly in search for new ways to trick people. One such way is for scammers to present themselves as reputable organizations, individuals, or in this case, the media. Not only is this particular scam presented as a trustworthy piece of news, but the promises are presented as coming from a top figure at a central bank of a country.
The Bank of Lithuania further warns people not to invest in products they do not understand, and to certainly avoid promises of no-risk fast enrichment. The often-mentioned "success stories" where people become millionaires "overnight or a week without doing anything, just a few clicks of the mouse" are also false, warns Šilgalis, as these "usually end in lost money", typically thousands or tens of thousands of euros, even hundreds of thousands of euros in some cases.
The case of fake Blockchain.com
Whether these individuals and scam organization steal a few dollars or a few million dollars makes (almost) no difference, as it's theft of your hard earned money either way. And it's everywhere. Just two weeks ago, the UK's South West Regional Cyber Crime Unit (SW RCCU) in a joint operation with the Dutch police, Europol, Eurojust, the UK's National Crime Agency (NCA), and two dogs have searched the suspects' homes and arrested six people in the UK and the Netherlands after a 14-month long investigation into a cryptocurrency theft worth of EUR 24 million, as it stands in the press release.
This was a type of fraud called typosquatting, also known as a fake URL, where scammers create an extremely similar URL and a fake site to imitate the original website, in this case a spoofed version of major cryptocurrency wallet Blockchain.com, in order to target users' bitcoin wallets, steal their login details and bitcoins.
"The investigation has grown from a single report of GBP 17,000 (USD 21,000) worth of bitcoin stolen from a Wiltshire-based victim to a current estimate of more than four thousand victims in at least 12 countries. We expect that number to grow", said Detective Inspector Louise Boyce from the SW RCCU.
___________________
___________________
This case was referred to the European Cybercrime Centre (EC3) and the Joint Cybercrime Action Taskforce (J-CAT) at Europol since the British authorities identified possible suspects in the Netherlands. SW RCCU is also urging potential victims to contact them.
Don't take crypto from a stranger
These are just two recent of a great number of attempts – many of them unfortunately successful – at getting into people's wallets and robbing them blind. Cryptoverse is constantly showcasing these attempts and warning others not to fall into the, more or less sophisticated, traps.
Cryptocurrency trader who goes by the name Moon Overlord, tweeted just two days ago: "Can't even read the comments on tweets anymore because there's so many scam bots." Others have offered solutions in the form of browser extensions and plugins which would block most of such posts, if not all, but it has often been questioned if blocking is a solution? Many people will get scammed anyway. They will not recognize these posts as scams and will, hence, likely see no need for additional tools to block them. Can we find a way to block particular users without falling into the rabbit hole of free speech discussions and going down the slippery slope of censorship, possibly even blocking innocent users along the way?
Others are warning against the giveaway scams. Though a crypto veteran will recognize them in a glance, they might be rather enticing – and look very real – to the novices among us. To help people not become a victim of "a giveaway", Jake Chervinsky, General Counsel at Compound Finance, a protocol on Ethereum for decentralized money markets, shared a new, updated if you will, version of a giveaway scam, saying: "If you are new here, please don't fall for this. No one is giving you free crypto."
Another example came from the Twitter user Burgerpurger, though he failed to take inexperience into account when writing his statement, which is a more likely cause for becoming a victim of a scam, than being "greedy" or "dumb", especially since scammers target the inexperienced.
Finally, we have an example of an impersonation, as actress, film/TV producer, and host of NBTV which is a YouTube channel focused on Tech, particularly Blockchain, Naomi Brockwell, has warned people of an email scam going around, with somebody offering investment advice under her name.
Meanwhile, just recently, we reported on the Wave Field Super Community that allegedly collected at least USD 29 million from investors before it unexpectedly shut down. Furthermore, famous Bitcoin educator, technologist and serial entrepreneur Andreas M. Antonopoulos has warned the cryptoworld to be careful as FOMO (fear of missing out) is in the air and scams are coming.
___
Read more:
Top 12 Do's and Don'ts of Bitcoin
How Cryptocurrency Scams Work
5 Crypto Scams To Be Aware Of
One Twitter Crypto Scammer Collected USD 180,000 in 24h
Twitter Scams Cost Millions, Solutions Emerging
---