A Canadian Indigenous Community's Ambitious Blockchain Trek
The Inuit, an indigenous people in the northern Canada town of Rigolet, Labrador, regularly face a challenging scenario — frozen rivers and streams are their only transportation routes in and out of town. With the impact of climate change, consistently warmer temperatures have created dangerous pathways for travel.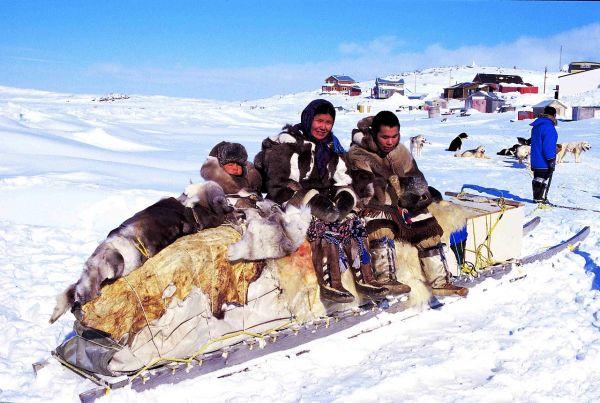 Amid these heightened concerns, blockchain has now emerged as a potential solution. Leading the charge by way of an experimental project in this space is RightMesh, a mobile mesh networking platform that employs blockchain's decentralized ledger application to chronologically track information.
The eNuk application is what allows local Rigolet residents to track changes in the environment. The underlying technology which enables browsing without a conventional internet connection is seen as a particularly valuable tool for remote areas with extremely unreliable internet connection.
Launched as a pilot in Rigolet in early 2017, the eNuk app was envisioned by Rigolet residents and built by way of a collaborative effort involving community members, local government officials, and researchers at Newfoundland's Memorial University and the University of Guelph in Ontario.
Solid ice that once provided residents with a way to hunt and fish, or drive on ice highways between Rigolet and nearby communities, has grown dangerously thin in recent years. It's here where the app provides residents with a mobile tool to share and tag locations through text, pictures, or video. The broader aim: To assist residents with identifying unpredictable environmental conditions, including ice thickness, tied to rising ocean temperatures that impede mobility and navigation.
This initiative aligns with the United Nations belief that connectivity should be a basic human right because of the economic and social benefits it accords. The challenge facing remote towns like Rigolet with relatively small populations is that internet service providers lack the economic will from a return on investment standpoint to erect better infrastructure in those areas.
An immediate connection
In a phone interview Dr. Jason Ernst, Chief Networking Scientist at RightMesh was asked about the genesis of the project. Ernst has this to say: "We got approached by some folks up in Rigolet who had been working with researchers from a couple of universities on things like climate data, human population medicine and things like that. As the southern-most Inuit community in the world, they wanted to start collecting data about climate change because of the rapid environmental changes they've experiencing. Their intention was to document this, collect data and tell their story."
Ernst said the community approached a computer science professor working with a bunch of science students on a protocol to address these environmental issues. What they found was because there's no cell phone networks up there, people were having to go through a tedious process of going under the ice, capturing a picture of some potentially unsafe areas before bringing it back to the village where they could go onto their computer and upload the picture.
"With something like Right Mesh you could eliminate a lot of that. Once you take a picture on your phone and return back to the community, it would automatically create connections with other phones and immediately connect people."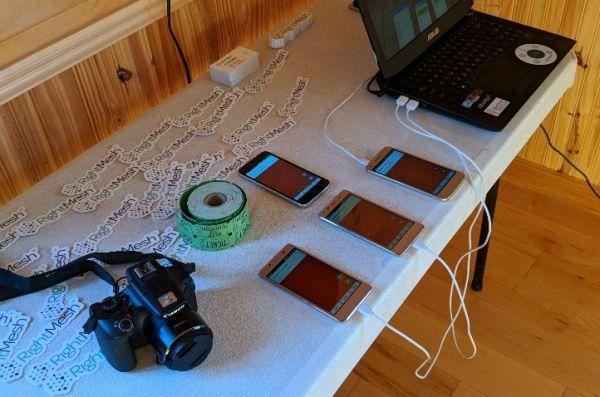 Ernst estimates that maintaining a decent network in Rigolet would require about 50 smartphones to be in use on the platform. He says if RightMesh is successful in executing this project, there's a chance that other communities in northern Canada—and other remote parts of the world— would find interest in it. To this point, Ernst says that there have already been in talks with rural community leaders in Russia, Norway, and Iqaluit in Nunavut about this very thing.
Concludes Ernst: "The full version of our solution isn't expected to launch in Rigolet until late spring or early summer. In the meantime, it's interesting to watch how feedback from town residents is continuing to drive this project in new, sometimes completely unanticipated, directions."
***
How it works
A mesh network could best be described as a set of interconnected Wi-Fi access points, or nodes, where users are not directly dependent on an internet service provider for connectivity. As a decentralized internet network, where devices function as both receivers and transmitters, the town of Rigolet is able to support the eNuk app.
With the mesh platform having been built on the Ethereum blockchain, RightMesh is able to reward users for sharing mobile device resources with an in-network cryptocurrency called MESH Tokens.
The company is managing the technical aspects in collaboration with two Rigolet residents who are employed as research associates.
---