YouTube Influencer Moves Beyond Internet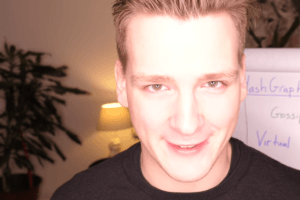 The BLOXPO conference on May 17th in Stockholm is another proof that influencers in the crypto and blockchain space are moving beyond filming educational and/or funny YouTube videos into the real world, to spread their passion.
Organized by the YouTube influencer Ivan On Tech (Ivan Liljeqvist), his consultancy company Stockholm Blockchain, and the Swedish Blockchain Association, the event aims to "teach and inspire innovation around blockchain" as this technology has the potential to make the world more transparent, global and democratic.
BLOXPO is not the first and not the only one event Ivan, who has more than 166,000 subscribers on YouTube, organizes. Together with his company, co-founded with two other Swedish blockchain enthusiasts Filip Martinsson and Erik Vesterlund, he hosts Stockholm Blockchain Events all over the world. They also invest in and start various projects in the cryptocurrency and blockchain space.
With a background in computer science (Ivan and Filip) and marketing & real estate (Erik), the team educates corporations, institutions and people all around the world about the blockchain technology and helps implement blockchain-based solutions within different sectors.
At the conference, Ivan, together other speakers such as Amrit Kumar, head of research at Zilliqa project, Larry Sanger, co-founder of Wikipedia and chief information officer ant Everipedia project, and other experts will be talking about topics, ranging from blockchain in different industries and how it can be applied to how the world and politics will need to adapt to a more trustless, completely immutable system. For those, who are not familiar with the technology, representatives from various companies working within blockchain will take newbies through the basics of blockchain.
Also, there is a special section for those who are already well familiar with the topic. "Listen and get inspired by the best in the business and learn about building dapps, smart contract security and next generation blockchains," says the explanation of this stage. Throughout the day, the topics will focus on more specialized things as opposed to basics, from how governments see blockchain to the legal implementation of blockchain and tokenization.
The tickets to the event can be purchased on their official website, but if you're a student from KTH or Stockholm University, you qualify for a significant discount through student group committees. If you're a student from elsewhere, you can grab a discount code from the event itself, although the amount of those is limited.
Moreover, Cryptonews.com is one of the official media partners of the event and our readers can enjoy a 20% discount with a code "cryptonews".