NOW Token
NOW
NOW Token
ChangeNOW is a non-custodial instant cryptocurrency exchange that lets you switch more than 200 cryptocurrencies with each other (that's over 30 000 pairs). Besides, it is the only instant exchange with its own token - NOW. But what can NOW tokens do and more importantly, what can you use them for? In this guide, we're looking at ChangeNOW's NOW cryptocurrency.
| Market Cap | Volume 24h | Circulating Supply |
| --- | --- | --- |
| $5,234,154 | $338.82 | 84803670.00000000 NOW |
What is ChangeNOW?
Established in 2017, ChangeNOW is a non-custodial cryptocurrency instant exchange service that allows you to switch more than 30 000 cryptocurrency pairs without any limits and registration. Besides, it acts as a fiat-to-crypto gateway, as it allows cryptocurrency purchases with VISA or Mastercard bank cards.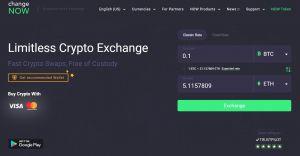 Other services of the exchange include:
NOWPayments
TokenSwap
Asset Listing
ChangeNOW API and Widgets
Lightning NOW node
Premium Lounge
NOW Nodes
ChangeNOW operates worldwide and is located in Belize City, Belize. Its services are trusted by thousands of customers with numerous positive reviews online.
'
If you'd like to learn more about ChangeNOW.io exchange, please read our complete review of the exchange.
In the year of its launch, ChangeNOW also released a whitepaper for its native token - NOW.
Here's what they are, how they work, and what you can do with them.
ChangeNOW's NOW Tokens
ChangeNOW is the only instant crypto swaps platform with its own NOW Token. The token was issued in 2017 and since then has undergone the following developments: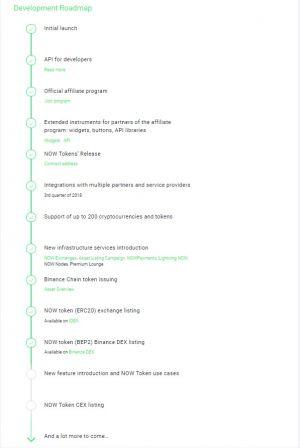 The main use case of NOW Tokens is an internal currency for NOW products. They let you acquire additional perks like:
Get better exchange rates
Faster customer support
Special offers in all NOW services
Voting for asset listing
Prizes, raffles, and promo campaigns
Better affiliate conditions
NOW tokens are unique in that they circulate on two chains - Ethereum (ETH) as an ERC20 token and Binance Chain (BNB) as BEP2 type coins. 200 million NOW tokens were minted in total - 100 million for each chain.
The tokens are allocated in the following proportions:
| Purpose | Amount | Proportion, % |
| --- | --- | --- |
| Gradual airdrop for exchange users and affiliates | 60 000 000 NOW | 30% |
| Private investors | 20 000 000 NOW | 10% |
| Project advisors and evangelists | 24 000 000 NOW | 12% |
| Reserve fund for project developers | 24 000 000 NOW | 12% |
| Reserve fund for project marketing | 24 000 000 NOW | 12% |
| Reserve fund for risk prevention | 20 000 000 NOW | 10% |
| Founding team bonus | 28 000 000 NOW | 14% |
The gradual airdrop of NOW tokens has started on May 28, 2018, and was finished on August 26, 2019.
As you can see, the vast majority of NOW tokens belong to the project or related members. Nevertheless, only slightly more than 65 000 000 of NOW tokens are circulating as of February 2020. The remainder of tokens are locked according to the team's vesting plan. According to the plan, the team receives 20% of the tokens every year after the initial release to keep the project members motivated.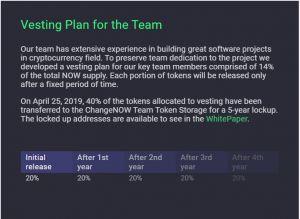 Essentially, the NOW Token supply is deflationary, since all NOW Tokens spent on ChangeNOW services will be burned until there's only 100 million NOW Tokens remaining at the ratio of 50/50 ERC20/BEP2. The burns take place quarterly and are explicitly announced on its website.
ChangeNOW burns only the tokens that were received for its services and each burn is announced on its website.
Where to get and store NOW tokens
Currently, you can buy and sell NOW Tokens at two exchanges - IDEX (ERC20 NOW tokens) and Binance DEX (for BEP2 NOW tokens). ERC20-based NOW tokens can be stored in any Ethereum ERC20 compatible wallet, while BEP2 tokens issued on the Binance Chain need to be stored in special BEP2 supporting wallets like Ledger, Atomic Wallet, Trust Wallet, Binance Chain wallet and others.